Terracina Grand Named a 2020 Best Memory Care Community in Naples, Fla., by MemoryCare.com
Recognition based on location, access to experts, facility features and amenities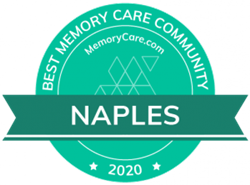 Naples, Fla. (Nov. 16, 2020) – Terracina Grand, a premier senior living community located in Naples, Fla., is proud to announce that they have been named a 2020 Best Memory Care Community in Naples, Fla., by MemoryCare.com.
"We are excited to be named a 2020 Best Memory Care Community in Naples. Thank you to our incredibly talented staff members for their commitment to providing exceptional service to our residents and their families," said Pradeep H. Muley, executive director of Terracina Grand.
MemoryCare.com is an online tool dedicated to providing information about memory care communities and offering resources to caregivers and seniors living with Dementia or Alzheimer's disease. MemoryCare.com shares reviews, costs, and the type of care offered at each community. Through research and a detailed selection process, MemoryCare.com was designed to help caregivers find effective solutions and quality care for their loved ones.
The 2020 Best Memory Care Communities in Naples, Fla., are determined by MemoryCare.com's team of researchers and their developed methodology. This methodology evaluates memory care facilities on the basis of 20% on location, 30% on Availability and Involvement of Experts, 30% on Facility Features, and 20% on Amenities. Terracina Grand is one of 10 communities named a 2020 Best Memory Care Community in Naples, Fla.
"There's a high demand for quality memory care all across our nation; specifically, in cities like Naples, which experienced a rapid increase in Alzheimer's related deaths," says Joyce Collins. Specialized memory care programs and communities strive to provide a safe and secure environment for cognitive learning while providing the highest possible quality of lifestyle.
---